Start Her Fit Kit Story
Training and nutrition information can be confusing and overwhelming when trying to get in shape.
As an educator, turned personal trainer, I saw a gap in the fitness industry, where you could actually learn in a systematic structure, how to return to training safely and learn the basics of weight loss nutrition.
Start Fit Kit Program (#SFK) is the foundational get restarted fitness program that is easy to implement and most importantly sustainable fitness solution to maximize your results in under 3 hours per week time investment.

Included in the program are short micro lessons, cheat sheets and support to help build your training toolbox and clarify any questions.
Goals of the Start Fit Kit Program
Empower your fitness

Organize your training

Simplify your nutrition
Build body confidence

Bust fitness myths

Inspire and motivate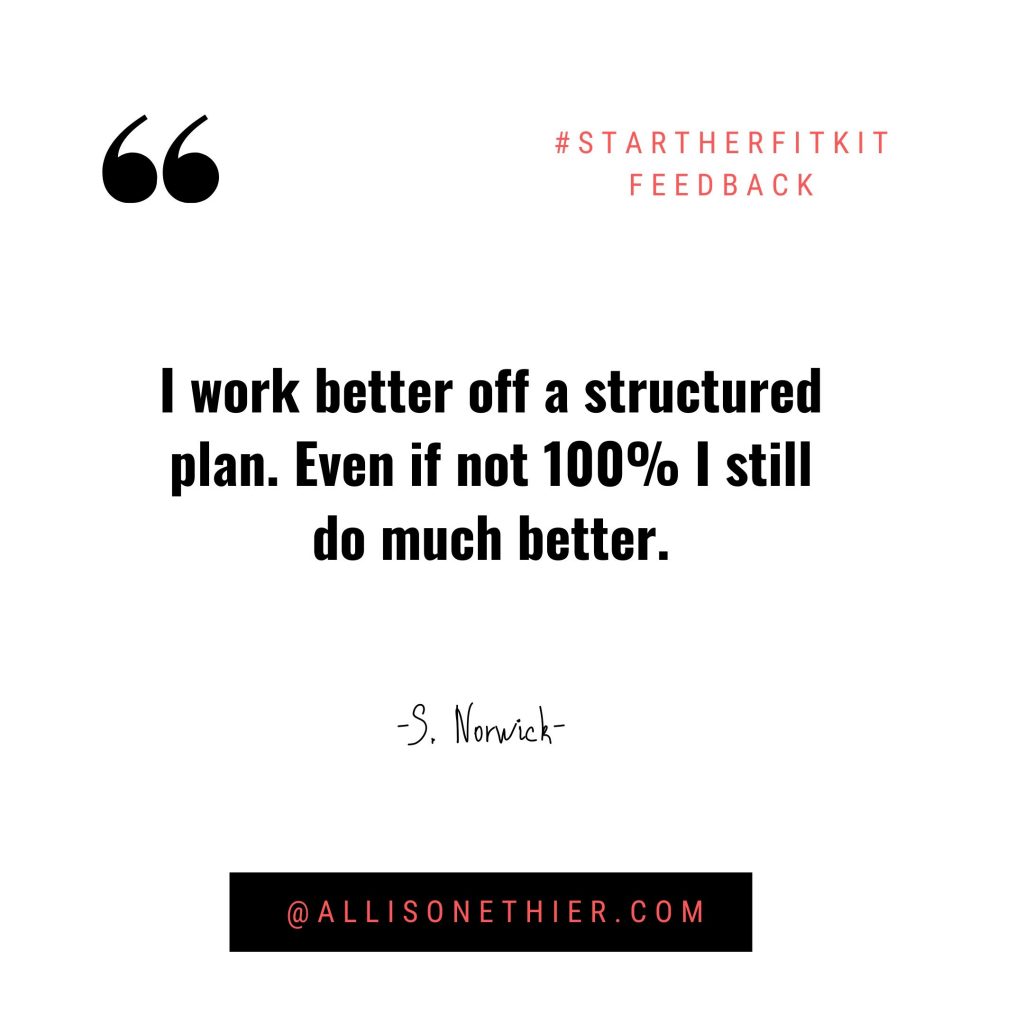 Results of Start Her Fit Kit Program
How to register for the Start Her Fit Kit Program
1. Read the Start Fit Kit Challenge Information (FAQs)
2. Register in the ATeam app
Frequently Asked Questions | FAQs
What clients are best suited for this challenge?
This is a beginner, or return to training challenge for weight loss/fat loss of 5-10lbs in 42 days.
If you are a woman, between the ages of 25-55 years and have at least 20lbs, to lose, this program is for you!
Benefits
Lose Bodyfat

Build Strength

Consistent Energy.

Feel Less Bloated

Sleep better

Training Support

Nutritional guidance

Improved Mental clarity
❌ Challenge Limitations
❌You cannot have any major injuries. This includes but not limited to back, neck, knee, or shoulder injuries.
✅ I promise not to give you, plyometrics, burpees, or any jumping type movements including box jumps, squats on stability balls, or Bosu balls.
❌Nutrition – no major health nutritional limitations. This program covers meal plans, that are balanced, non-dairy, vegan, vegetarian, and keto-esque options. If you have nutrition limitations my coaching packages would be a better fit for an individualized plan.
✅ If you don't like something [insert food here] that is not really a limitation, that is a preference
✅ You must have the 5-Home Equipment Essentials.
✅ You must make time for it in your schedule.
At least 3 hours per week, as the minimum. Some do more, some do less, but I do expect you to make space for movement.
What you will receive
SFK Program – Part 1 Training program

Meal plans (6)

Q & A weekly (3)

Blog posts and mini-lessons

Direct message

Weekly accountability
You will have access to the program, training, nutrition, and support for 6-weeks. After the challenge ends you will lose access.
Timeline
Register | 16-21 October 2023
Program Delivery | 22 October 2023
Start Date | 22 October 2023
End Date | 01 December 2023
Time Commitment
3 hours per week is the minimum recommendation to see results on a weekly to biweekly basis.
This is 3 x 30 mins strength training + 3 x 30 mins of walking cardio.
Pricing
Regular Rate $171 + taxes = 197$ 🇨🇦
25% discount for previous clients of the SFK program.
Program Delivery & Access
Download the online coaching platform – MyPTHub from the Google Store or app store.
The program is delivered through the coaching platform.
You will have access to the SFK program for 12 weeks.

Tracking
All tracking or logging of workouts is done through the online coaching platform.
Which includes, program delivery, nutrition, logging, and reporting.
We also track/log weight, photos (never shared socially), and body girth measures through the app.
Lessons
Calories & Macros | 3-part series

Exercise videos

How to log nutrition & training

The scale and signs of progress – Cheatsheet

Signs of Fat Loss – Cheat Sheet

Q & As