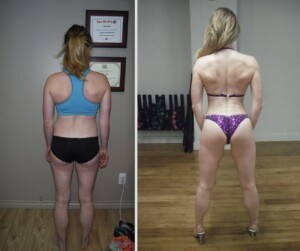 Staying motivated to stick to the program and continuously going to the gym.
In the past, I had joined other gyms and ended up quitting and never going back. I didn't trust myself to continue. I was extremely intimidated by the gym, all the people there seemed to know what they were doing. I was an outsider that didn't have a clue, how to position my body or use the equipment.
Even though I had these reservations, I knew I wanted a change in my lifestyle. I had some extra weight I wanted to lose and I really want to tone up and have a healthy lifestyle.
When I heard of Allison through a friend, I thought I'd give it a try.
The personalized programs, motivation, and being accountable to someone has changed everything. I found a formula that works for me, finally! It's been so wonderful to have the results! With Allison, I was able to gain confidence at the gym. She gave me the direction I needed to be confident with how to use the equipment and position myself properly. I also had to now be accountable to her, so I had no choice but to show up.
In 2015 I participated in a bikini competition, which Allison trained me for. something I would never have dreamed for myself. I loved it! I've found a passion for this lifestyle.
Emily Benson
Training with you was hard work, took a lot of dedication, but in the end, it all paid off!
I was apprehensive at first because it was my first time doing anything like this, but you made the process and ease, guided me every step, and you always made sure I was comfortable and felt beautiful every step of the way.
Before beginning this process, I had my reservations; would I actually be competition ready, would I be able to handle food cravings and sticking to a diet, and would I fall on stage?
From the very beginning, you broke down the overall process, what would be happening in each month, and the weeks leading up to the competition. Instantly, I was at ease, my reservations were gone and I knew that with my hard work and effort, you would be the coach to lead me to my success.
I was worried about my meal plan, as I love my bread and peanut butter but to be honest I loved my meals! I enjoyed the variety and options that I had and knew that I could still have a cheat meal here and there to rid of any cravings.
When it came time to start posing classes, I felt like a baby calf learning how to walk in my heels but you guided me, helped me practice and you knew what poses looked good for my body. You made me shine in the best way I could. The only part for posing that I wish I would have practiced more alternatives for was the quarter turns. I felt that I only had one pose to show them and would like to know some ways to change it up.
My main goals for competing were to try something new and out of my comfort zone, as well as, get to a fitness level that I had never reached before. With your help, I was not only able to achieve my goals, but you have led me to keep wanting more, continue to push, and see what my potential is.
My achievements with training so far:
More stamina and determination

I have a better understanding of my muscles and contraction of my muscles

Understanding the best movements for my body

More sculpting and definition overall

A new love for the gym
Allison, you were a wonderful trainer, and I honestly do not believe that I would have felt as comfortable or as ready as I did had I started with a different trainer. You really did make me feel beautiful in my own skin and helped me to realize that even though I am up there against all those women, I am doing this for myself and to be proud of my own accomplishments within this process.
Thanks, Allison!
Devon Henderson
My own fears and overthinking got in the way, which was getting in the way of my results. You helped put everything in a coherent easy-to-follow fitness plan.
Your training is built on trust, honesty, the feedback given and my questions answered on every check-in were amazing.
When I felt I screwed my metabolism, from competing, you taught me about food, and how to care for my health.
My goals included the following:
Weight loss

Healthy eating

A healthy relationship with food
Now, after working with you, I am able to better listen to my body what works and doesn't work from what you taught me from your workouts, meal plans & especially my check-ins.
I learned that more cardio and hours at the gym do not mean better results. Eating to live is essential, and food serves a purpose. I always felt you cared about me and what was happening in my life ❤️
All I have to say is your amazing I can come to you with anything, training or non-training. You are very knowledgeable, scientifically proven facts you have, and you still work on learning and helping people with their goals and barriers. Whatever issues I may be facing, my programming was always designed for me, and my goals.
I have achieved so much in my life by adjusting my approach to food, healing my body, and consistent workouts.
Thank you for everything. Working with you, has changed my life.
With much love and appreciation,
Melissa Capadouca